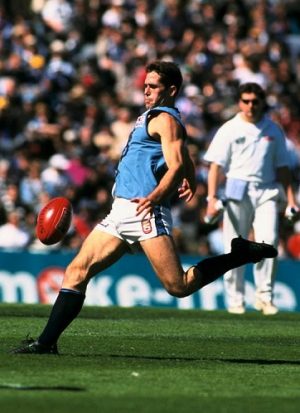 Damian Squire was a smart and natural footballer and was a Port Adelaide Magpies supporter when he was growing up, but lived in the heart of North Adelaide's metropolitan zone and went on to make his league debut for the Roosters in 1991 and played predominantly as a half forward during his time there.
In 1996 he signed with Port Adelaide for their first season in the AFL and was a member the Power's inaugural AFL side in 1997 against Collingwood at the MCG, picking up 4 kicks and 4 handballs. After playing in a further 4 games and kicking 4 goals in the Power's inaugural season he was surprisingly delisted at the end of the season and returned back to North Adelaide.
In 1999 and after 113 games with the Roosters, the exquisitely skilled Squire joined the Double Blues seeking more time in the midfield. Sturt greeted him with open arms and he went on to win the Magarey Medal and P.T. Morton medal in his first year with the Blues and won the Magarey Medal again in the following year which cemented his place among an illustrious group of players to have won multiple medals and he also became the first Sturt player to win the medal in successive years.
After Sturt missed the finals in 2001 Damian became a key player in the club's 2002 finals campaign which ultimately resulted in the Double Blues defeating the defending premiers Central District by 47 points to win the club's first flag since 1976.
He went on to captain South Australia in 2003 and win the P.T. Morton medal again in 2005, but struggled in 2006 with a neck injury which led ultimately to his retirement at the end of that season after 145 games and 157 goals in 8 seasons at Unley.