The City of Unley has approved a permanent fence being erected around the playing field of Unley Oval. Pick-a-Picket campaign is an exclusive opportunity for you to own your own piece of history. Make your mark by purchasing an individually numbered and personalised picket with nominated name and/or family name. The money raised will go towards financing the construction of this fence which is necessary to back up the clubs commitment to the City of Unley for the cost of the construction of the fence in the effort to reduce match day set up costs.
How will it appear on the picket?
Examples of existing plaques below: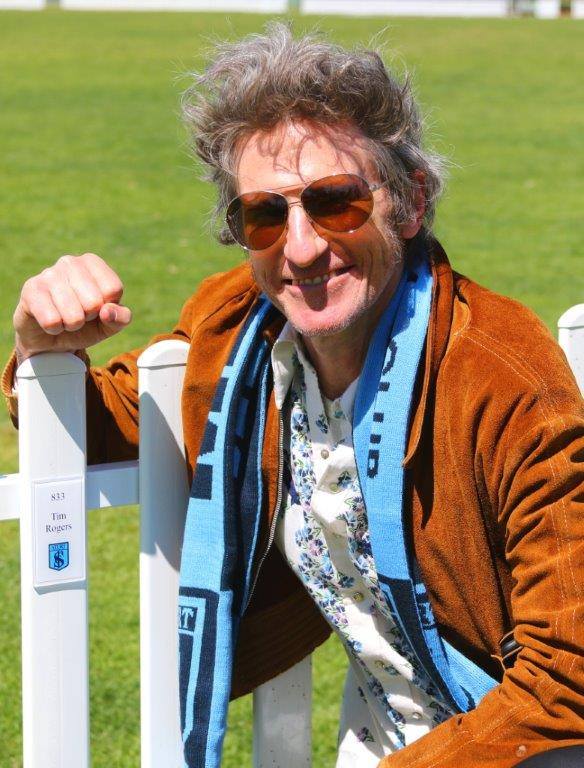 Club Ambassador Tim Rogers with his personalised picket
Your picket will be individually numbered and a plaque will be mounted on the crowd side with nominated name(s) and/or family name(s).
'Legend' pickets will have two plaques – crowd side plaque in blue with nominated name and/or family and oval side plaque with contain 'Legend' details as determined by Sturt Football Club.
Sturt Football Club players who have played 100+ games will also feature on the oval side of the picket fence.
How much does a picket cost?
There are different prices determined by the location of the picket, see map below;
Sections 1,2 & 15 – $175
Sections 3, 4, 5, 6, 7 & 8 – $150
Sections 9, 10, 11, 13 & 14 – $110
Click here to view Picket Map.
Section 12 unavailable due to bowling green fence.
Sturt Football Club Members will receive a 10% discount (applicable to 1 picket per purchase).
FAQ's
1. Who do I call to purchase a picket?
Purchase online here, or call Sturt Football Club on (08) 8271 4611. You also have the option of filling in the PicketOrderForm and then emailing it to [email protected]
2. How will the sales be managed?
Sales will be managed through Sturt Football Club and work on a first in, best dressed basis. To secure your chosen picket number payment is required at the point of sale.
3. What criteria determined the 'Legend' pickets?
Sturt Football Club's Foundation year, Premiership years, Team of the Century, Hall of Fame and Magarey medallists helped establish the criteria.
4. Do I get a discount for being a Sturt Football Club 2022 Member?
All current Sturt Football Club Members will receive a 10% discount off the cost of the picket – excluding Legend & Platinum series.
*Plaques will deteriorate in outdoor conditions.  Replacement plaques can be arranged by contacting the Club.