FAQS – SANFL STATEWIDE SUPER LEAGUE CROWDS AND TICKETING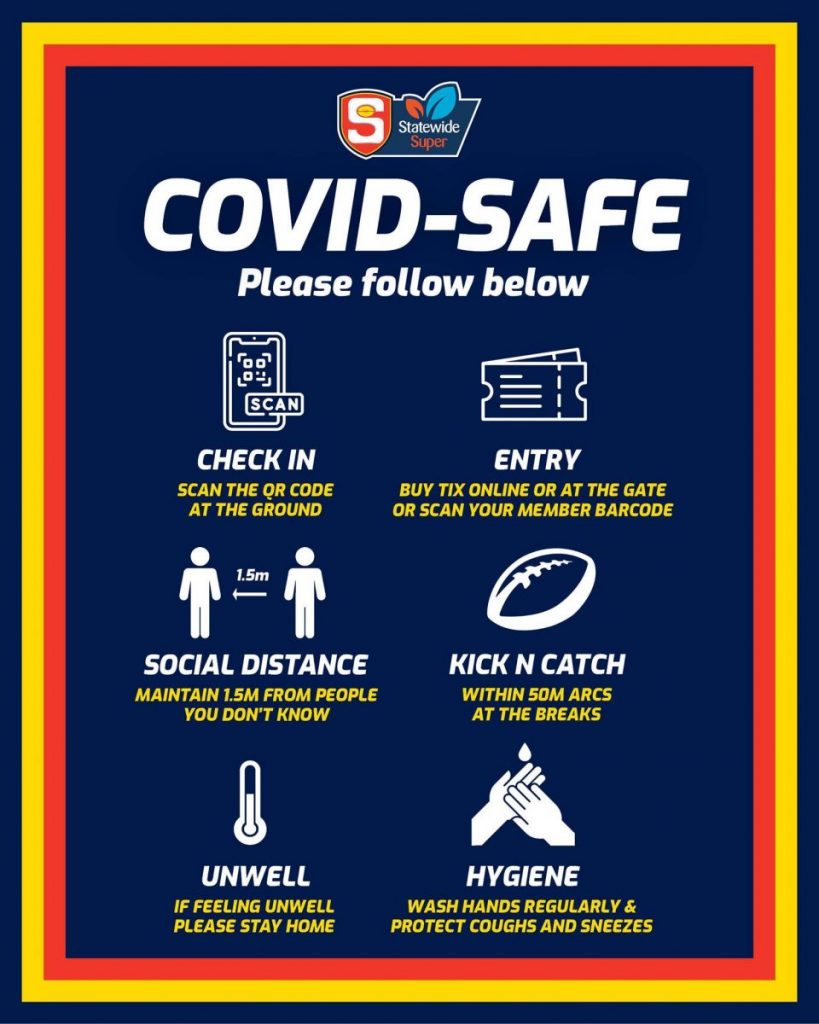 Are there crowd restrictions at SANFL grounds?
SA Health has approved crowds at 50 per cent capacity under SANFL Clubs' Covid Management Plans, which is in line with the 1 person per 2sqm density. This equates to between 3,000 and over 4,000 spectators, depending on the stadium capacity, so all Members and supporters can get along to games this weekend.
Keep checking the SANFL and SANFL Club Facebook pages and websites for future updates on crowd capacity.
Do I need to wear a mask at SANFL League matches?
Yes masks are mandatory for spectators at SANFL League games but, under revised SA Health directions, only when entering and existing the venue or moving around the venue (i.e. visiting the bathroom or food/beverage point of sales). Spectators no longer need to wear masks when seated or standing in a fixed position to watch the game. The revised SA Health directions applies to spectators attending any outdoor sporting event with a Covid Management Plan (which includes SANFL Club match days).
Children under the age of 12 are not required to wear a mask.
SA Health's mask messaging is simple – if you can wear a mask, please wear a mask.
How are SANFL Clubs complying with physical distance requirements at their venues with crowds?
By limiting spectator numbers, currently to the 1 person per 2 square metre rule, social distancing at venues can be maintained. Club officials will be present as Covid Marshals and will be ensuring patrons are complying with social distancing. Grandstand seating will also be marked to ensure spectators are adequately distanced from one another.
Do I need to be seated at SANFL matches or can I stand?
No, you can choose to be seated or stand, so long as you are 1.5 metres distance from other patrons who are not members of your household. However spectators must be seated during consumption of all food and drink.
What do I need to do to keep myself and others safe?
We all have a part to play in keeping the community COVIDSafe:
Stay home if you are feeling unwell, and seek testing if you have any COVID, cold or flu symptoms
Wash your hands often and cover coughs and sneezes in your arm
Use the COVIDSafe check-in QR Code or manual register when you arrive at the gate
Follow the advice of all venue and club staff
Maintain 1.5m physical distance from others not in your household or social group
If you can wear a mask – please wear one.
Will canteens and bars be open at the footy?
Yes. Full food and beverage services are available at SANFL venues on match day, ensuring an enjoyable day out at the footy. You will just need to ensure you are seated when eating or drinking. Check Club websites and Facebook pages for more information on what's available.
Community football clubs also can sell food and beverage from bars and canteens (including barbecues), but under COVIDSafe protocols.
How can I pre-purchase a ticket to a SANFL game?
Yes, tickets for games this season can be pre-purchased online at a discounted price:
Adults $15
Concession $9
Under 18s FREE
You can purchase online through the home club's website, then just print this ticket or download it to your smartphone.
More information on the SANFL website here
Can I buy a ticket for a SANFL match at the gate?
Yes. If you can't manage to buy online, tickets are still available at the gate:
Adults $16
Concession $10
Under 18s FREE
Can I buy a ticket for a SANFL game with cash at the gate, or is it card only?
Yes. SANFL Club ticket boxes at the gate will take cash, although card is the preferred payment.
Will I need to 'check in' at the venue?
Yes. To adhere with SA Health COVID contact tracing requirements, all patrons at SANFL matches must check in with the venue's QR Code or written register at each ground. Spectators at community football games also must 'check in' at the venue's canteen or clubroom.
Do I need to wear a mask while seated?
No, masks are no longer required to be worn at SANFL League matches when either seated or standing in a fixed position to watch the game. However, they must be worn at all times when moving around the venue.
Masks are not required to be worn by spectators when outdoors at community football matches with less than 1000 people, unless inside the venue.
Can I bring a chair to the game?
Yes, as food and beverage must be consumed while seated, you are welcome to bring your own chair. Clubs will also ensure there is additional seating for patrons.
Will there be a 'kick and catch' on the oval?
Yes absolutely – even with the current capacity restrictions, you can have a kick and catch during the quarter and half-time breaks and after the game. Kick and Catch is only permitted in the 50m arcs at each end of the ground. Please remember to do the right thing and keep you distance from other patrons – and adults need to remain masked up.
Where can I buy a SANFL Football Budget?
The Footy Budget is sold at every SANFL match – at the gate and club merchandise stands – for $3.