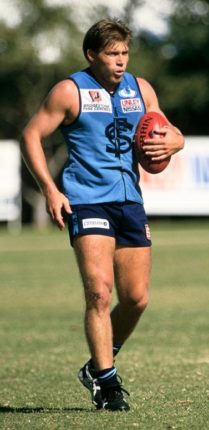 Brodie Atkinson was an exceptional midfielder and was one of the club's few shining lights during the the club's darkest period through the early to mid 1990's when he won the 1997 Magarey Medal.
The bullocking and fearless Atkinson played 124 games and kicked 131 goals for Sturt between 1996-2002, won the P.T. Morton Medal in 1997, played in the 2002 Premiership and represented South Australia on 6 occasions including being named captain in 1998.
He also came runner up in the Magarey Medal three times, in 1998 while playing for Sturt and in 1992 and 1994 while playing for North Adelaide as well as winning the 1991 Reserves Magarey Medal while playing for the Roosters.