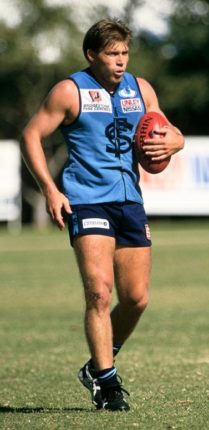 Brodie Atkinson began his SANFL career with North Adelaide in 1990 and went on to win the Reserves Magarey Medal in 1991 while also being one of the Roosters best in that years League Grand Final.
After coming runner up in the Magarey Medal in 1992 Atkinson was drafted by St Kilda at the end of the year with pick 16 at the 1992 AFL National draft. He made his AFL debut in Round 11 of the 1993 season, a game against the Brisbane Bears in which he had 25 disposals, earned an AFL Rising Star nomination and also 2 Brownlow Medal votes, but only played 1 more game before being delisted at the end of the season.
He returned to North Adelaide in 1994 and came runner up in the Magarey Medal for the second time that year before deciding to make the move to Sturt in 1996 after 98 games and 112 goals for the Roosters.
An exceptional on-baller, Brodie had a standout year in 1997, winning the Magarey Medal and the P.T. Morton medal and helping the Blues off the bottom of the ladder for the first time in 8 years and also play finals for the first time since 1988.
Season 1998 saw Atkinson play in the Grand Final against Port Adelaide, come runner up in the Magarey Medal for the third time and named State captain. At the end of the year he was selected at the age of 26 at the AFL National draft by Adelaide with pick 80. Unfortunately he was hampered by injuries and only played 5 games for the Crows in 1999 before being delisted at the end of the season.
Brodie's final game for the Double Blues was the 47 point win over Central District in the 2002 Grand Final, after which he retired after 124 games and 131 goals in his time at Unley.
After his retirement from the SANFL, Atkinson joined Portland in the Western Border Football League (WBFL) as captain-coach, leading them to a Premiership in his first year and went on to coach them for a further 2 years.
He returned to Sturt in 2006, taking over the reigns as caretaker coach for the last 6 games of the season after the resignation of Brenton Phillips and returned again in 2012 as an assistant coach to newly appointed senior coach Seamus Maloney, a position he held until the end of the 2015 season.