| | | | | |
| --- | --- | --- | --- | --- |
| Team | 1st Quarter | 2nd Quarter | 3rd Quarter | 4th Quarter |
| STURT | 1.4-10 | 4.6-30 | 8.10-58 | 12.13-85 |
| Glenelg | 3.6-24 | 4.8-32 | 5.10-40 | 9.10-64 |
Best Players
P.Bagshaw, M.Greenslade, R.Rigney, P.Endersbee, B.Adcock
C.Brooks, R.Schoff, T.Burgan, B.Shearman, J.Tilbrook, G.Wild
Goal Kickers
M.Greenslade 6, J Tilbrook 3
T Burgan 1, B.Shearman 1, G.Wild 1
Captain
B.Shearman
Coach
J.Oatey
Best on Ground
P.Bagshaw
Attendance
48,067 (Adelaide Oval)
Premiership Team
Forward:
P.Endersbee
M.Greenslade
D.Ottens
Half-Forward:
T.Burgan
P.Friedrichs
J.Tilbrook
Centre:
B.Miels
B.Shearman
B.Raymond
Half-Back:
C.Brooks
R.Schoff
T.Short
Back:
K.Chessell
P.Nelson
B.Adcock
Ruck:
G.Wild
P.Bagshaw
R.Rigney
Reserves:
M.Nunan
P.Yeo
Match Report
FIVE IN A ROW – At 4:00am the morning of the Grand Final thick black clouds moved in over Adelaide Oval and rain began for the rest of the day.
Glenelg handled the wet and boggy conditions better than Sturt in the first quarter and led by 14 points at the first break.
The Blues came back in the second quarter kicking 3.2 to the Tigers 1.2, with Malcolm Greenslade kicking all 3 of Sturt's goals and at half time Glenelg led by 2 points
After half time Jack Oatey made a number of positional changes. Sturt gained control of the match in the third quarter, kicking 4.4 to 1.2 and at the final change the Blues held an 18 point lead. Considering the wet conditions it looked like it would be five in a row for the Club.
Glenelg fought out the last quarter but could not reduce the margin with Sturt winning by 21 points. Once again the mercurial Paul Bagshaw was best on ground while Malcolm Greenslade booted 6 goals. To Glenelg's credit Jack Oatey stated that this fifth Premiership had been the hardest to win out of the five.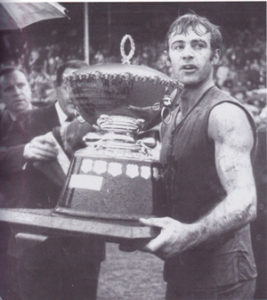 Captain Bob Shearman accepting the 1970 Premiership Cup