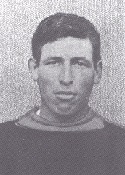 Hendrick 'Taffy' Waye was the club's first Magarey Medallist, an exceptional ruckman and dangerous forward who carried Sturt "on his back" during the club's early years.
He lived in Willunga working as a blacksmith and would journey fifty miles on a horse and buggy to train and play for Sturt.
Waye dominated the competition to the extent that the opposition would use two players against him in order to contain his influence.
He played 72 games and kicked 74 goals between 1902-1910 and was the club's leading goal kicker for five consecutive years between 1903-1907.
He also played 8 games for South Australia and is a member of the club's Hall of Fame and was named in the left forward pocket in the Sturt Team of the 20th Century.