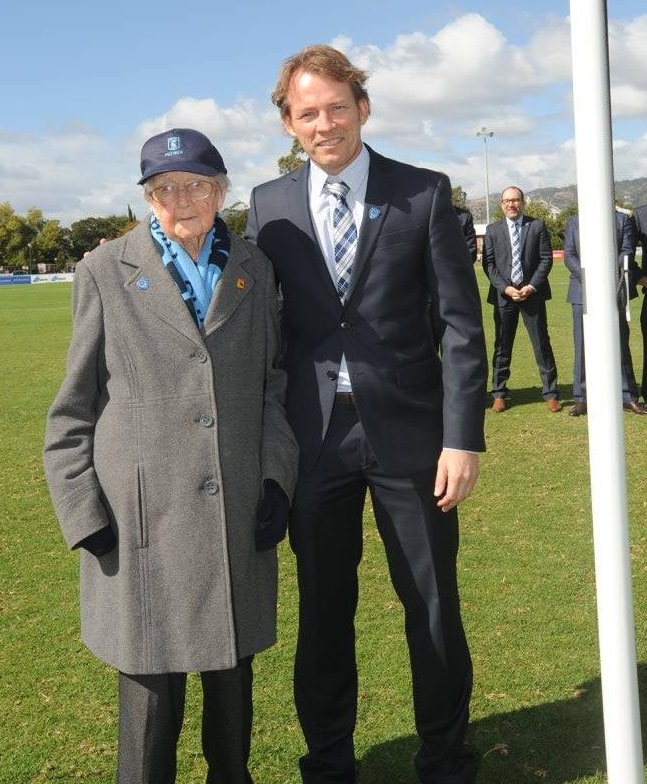 Oldest member, Dorothy Harris passed away last week aged 108 years.
Born in 1913 at Cowell, South Australia, Dorothy was alive for all the Club's 15 men's league premierships.
At 105 years of age, Dorothy would attend games at Unley Oval before moving to Tumby Bay to be closer to family but continued to live independently.
Dorothy was part of the 2016 premiership flag-raising ceremony for the first home game of the 2017 season. She is seen pictured with Club President Jason Kilic where she was keen to offer her assistance in the raising of the flag that day.
We fondly remember a very hot 38oC day in 2018 Dorothy arrived at the Club having caught two buses to Unley Road and walked down Oxford Terrace to purchase her season membership. We said to her that we would organise for a taxi to take her home. In her matter-of-fact manner, she said, "Thank you, however, I arrived by bus so I shall go home by bus."
Dorothy's dedication to Sturt Football Club had no off-season.
Rest in peace Dorothy.
4/7/1913 – 11/2/2022