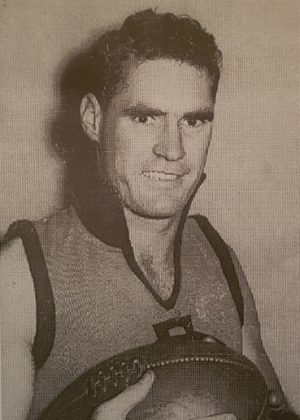 The Club advises that past player Dennis Rattigan passed away on Thursday the 7 July 2022.
Growing up in Glandore and then later in Unley, Dennis began his career at Sturt in the Colt teams before progressing through the ranks, playing in the Reserves Premiership in 1949 and then making his league debut on the 22 April 1950 in the opening round of the season.
Although only six foot tall Dennis initially played as a ruckman due to his impressive jumping ability before moving to full back later on in his career and was forced to play in a variety of positions throughout the 1950's due to the weaker Sturt teams at that time.
Dennis was also a talented cricketer playing for the A Grade Sturt cricket team before focusing fully on football in 1952 under new coach Len Fitzgerald.
During his career at Sturt he was a Vice Captain, a selector, a player representative and also on the main committee. Dennis also went on to represent South Australia on 9 occasions playing mostly in the ruck.
After his career at Sturt he went on to captain/coach Willunga winning a Mail Medal and then later Kapunda for three years.
Player Number: 526
Years Played: 1950-1959
Sturt Games: 157
Sturt Goals: 56
State Games: 9