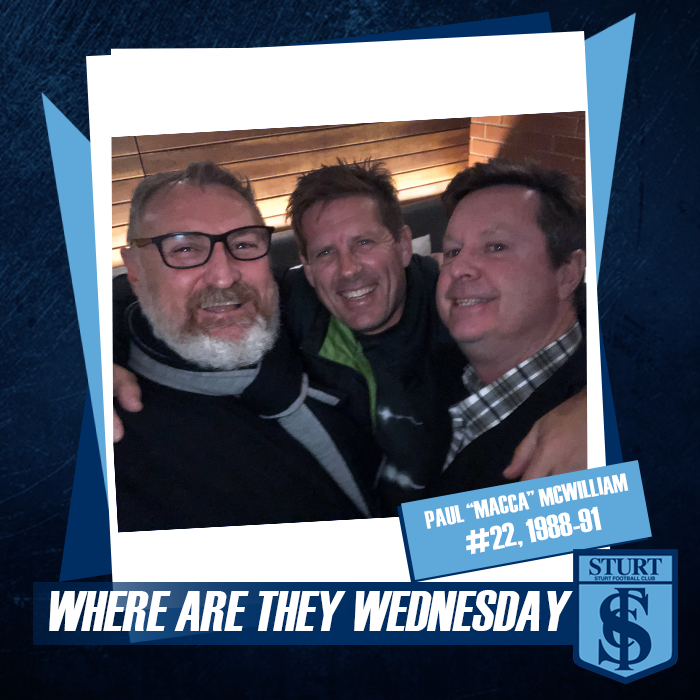 Originally from Mildura, Paul McWilliam (pictured here with Chris McGown and Darren Bower) played 56 league games for Sturt. After retiring from SANFL footy at age 23, he continued to play for Hahndorf and Strathalbyn until knee and leg injuries ended his career.
Paul and his wife Marie still live in Adelaide, and Paul works as a real estate agent.
On his best memories of the club…
"[I had] the opportunity of playing with my childhood mates Chris McGown and Darren Bower – we all went to Kindergarten, Primary & High School together in Mildura, Victoria. So to all end up at Sturt was pretty incredible.
Playing with great players and blokes like Greg Whittlesea, Jack Paynter, Laurence Schache, Smithy, Peter Reid, Scotty Field , Johnny Richter, Peter Heinrich, Tony McCarthy, Leo Darveniza, Undies, Kits, Dave Reynolds and my good mate David "Doug" Welsby was fantastic."
On his advice for current players…
"Enjoy it and make the most of it while it lasts. I really miss the atmosphere of a football club and didn't appreciate how much it meant to me whilst I was there."
If I had my time again, I'd…
"Work harder in the off season. Try not to break both my legs."