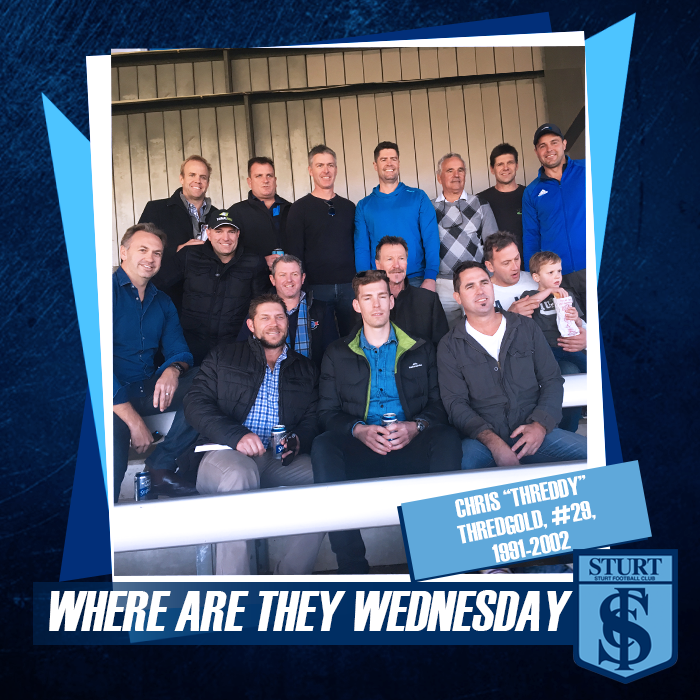 A long time servant of the Club, Chris Thredgold played for Sturt from 1991 to 2002. After retiring from SANFL, he played for PAOCFC and still lives in Adelaide with his wife Andrea and their two boys Jack and Tom. Chris runs a successful mortgage brokering business (Home Loans & Finance Group) and remains active with the Club as a member of our Board.
On his memories of the Club…
"I have many good memories, from being greeted by great people…we had a tough time of it winning 6 wooden spoons to making an elimination final in 97 and a grand final in 98. Going from crowds of 1500 to playing in front of 50,000 was amazing, only to be shattered to lose by 8 points. My best memories will always be the people around the club and my team mates who I absolutely loved spending time with. Sturt was a huge part of my life whilst playing and now continues with my role at the club, you do as much as possible to act in the best interests of the club, members and supporters and player, you don't always get it right."
His advice for current players…
"It's fairly obvious but make sure you give as much as you can because you start your career and before you know it you wake up and the doorstep of retirement is right there. I loved standing at the bottom of the McKay grandstand race all hidden away with your mates then running up the stairs onto Unley Oval."
If you know a past player with an interesting story, send them our way!