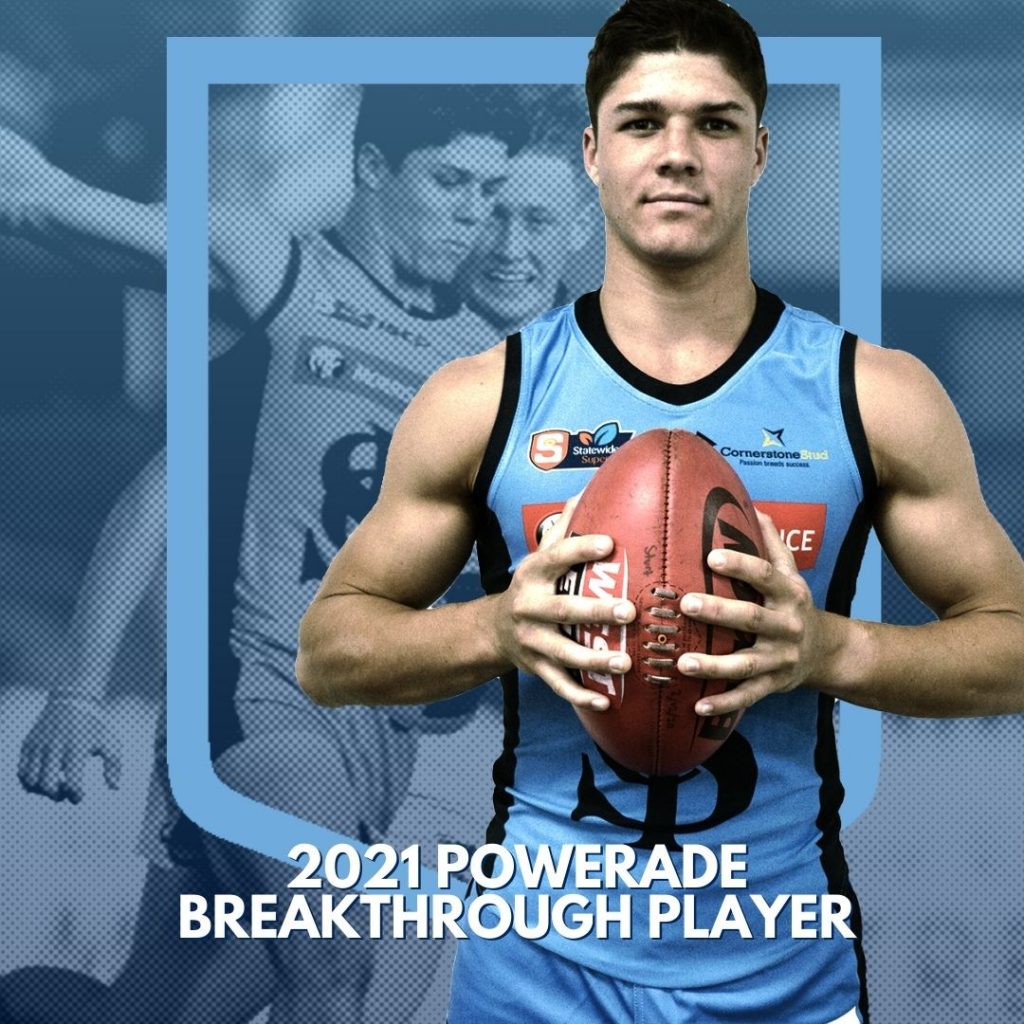 Congratulations to midfielder Tom Lewis who won the 2021 Powerade Breakthrough Player Award announced at the Magarey Medal held Monday 27 September.
A member of the 2021 The Advertiser SANFL Team of the Year, Tom has had an outstanding season for averaging 22 disposals, six clearances and a competition-leading 10 tackles per game.
The Powerade Breakthrough Player Award has been previously won by Jarrod Lienert in 2016 before he was drafted by port Adelaide in the AFL.
Introduced in 2007, the Powerade Breakthrough Player is designed to recognise and reward the best, Under 23 years, emerging young talent having played 10 league games or less at the start of the year.
Sturt's young, emerging list dominated this year's awards with a record five players receiving nominations throughout the season, further confirming the quality of our junior pathway programs.
2021 Powerade Breakthrough Player Nominees
Round 1 – Jason Horne-Francis (South)
Round 2 – Josh Shute (Sturt)
Round 3 – Zane Williams (Eagles)
Round 4 – Tom Lewis (Sturt)
Round 5 – Josh Gore (West)
Round 6 – Dyson Hilder (North)
Round 7 – Jackson Callow (Norwood)
Round 8 – Henry Nelligan (Norwood)
Round 9 – Luke Beecken (Eagles)
Round 10 – Mani Liddy (Sturt)
Round 11 – Leek Alleer (Central)
Round 12 – Oliver Davis (Adelaide)
Round 13 – Bailey Chamberlain (West)
Round 14 – Lachie Wilsdon (North)
Round 15 – Will Coomblas (Sturt)
Round 16 – Anzac Lochowiak (Sturt)
Round 17 – Harry Grant (Central)
Congratulations to South Adelaide's Bryce Gibbs and Woodville-West Torrens James Tsitas who were joint winners of the 2021 Magarey Medal with 21 votes each.
Abaina Davis polled 16 votes followed closely by Tom Lewis on 15 votes.
Magarey Medal Voting – Sturt
16: A. Davis, 15: T. Lewis, 12: J. Battersby, 6: C. Voss, 3: D. Fahey-Sparks, 2: A. Johnson, 1: G. Page, S. Slimming.