| | | | | |
| --- | --- | --- | --- | --- |
| Team | 1st Quarter | 2nd Quarter | 3rd Quarter | 4th Quarter |
| STURT | 1.3-9 | 7.6-48 | 11.8-74 | 17.14-116 |
| Port Adelaide | 2.5-17 | 3.8-26 | 7.13-55 | 10.15-75 |
Best Players
R.Davies, P.Bagshaw, M.Graham, R.Klomp, J.Murphy
B.Howard, B.Miels, M.Nunan, R.Barton, T.Sims
Goal Kickers
P.Bagshaw 3, M.Graham 3, R.Klomp 2, R.Barton 2
J.Murphy 2, G.Wild 2, B.Miels 1, M.Nunan 1, R.Davies 1
Captain
P.Bagshaw
Coach
J.Oatey
Best on Ground
R.Davies
Attendance
66,897 (Football Park)
Premiership Team
Forward:
T.Sims
G.Wild
R.Barton
Half-Forward:
M.Graham
R.Klomp
J.Murphy
Centre:
T.Burgan
B.Howard
B.Miels
Half-Back:
T.Lloyd
P.Nelson
P.Sanders
Back:
N.Wark
C.Casey
G.Lauder
Ruck:
R.Davies
P.Bagshaw
M.Nunan
Reserves:
P.Heinrich
R.Hill
Match Report
Captain Paul Bagshaw held the Thomas Seymour Hill Premiership Cup above his head and proclaimed, "This is the finest hour in the history of the Sturt Football Club", after 7 Premierships in Sturt's golden era, who was going to argue with him.
Port Adelaide had been the best performed team all season and red hot favourite going into this Grand Final, but if you ever needed to see a team reach their peak on the day, this was it. Port led early in an even first quarter, holding an 8 point lead at the first break.
The Double Blues took control in the second quarter, kicking 6.3 to Port's 1.3 and taking a lead of 22 points into half time. The Magpies came back in the third quarter, to narrow the margin to 19 points at three quarter time, but the "Too Old and Too Slow" as Oatey's men had been labeled played all over Port in the final quarter to kick 6.6 to the Magpies 3.2 and ran out winners by 41 points.
The ubiquitous Rick 'The Jumbo Prince' Davies was superhuman, taking marks all around the ground and was best on ground with the amazing statistics of – 21 kicks, 21 handballs, 21 hit outs, 15 marks and one goal. It was one of the finest individual performances ever seen in an SANFL Grand Final.
Captain Paul 'Mr Magic' Bagshaw, powerful Robert Klomp at centre half forward and lightning fast Michael 'Flash' Graham were also high in the best players for Sturt.
The highest crowd ever assembled of 66,897 for a SANFL Grand Final was recorded on this day however this did not take into account those that were not counted when gate staff could no longer cope with the throngs of people estimated to be in excess of 75,000. People sat on the boundary line to witness one of Sturt's greatest victories.
This was Jack 'The Master Coach' Oatey's seventh Premiership at Sturt and tenth in total.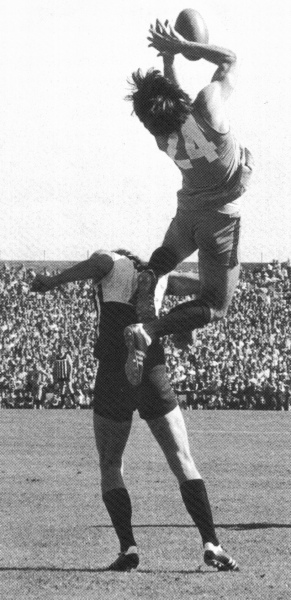 Rick Davies soars over Chris Natt to take this iconic mark in the 1976 Grand Final