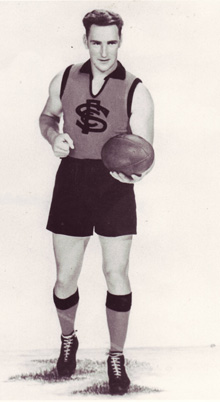 The late Len Fitzgerald made his debut for Collingwood at the age of just 15 in 1945 and went on to play 96 games for them as well as playing 2 games for Victoria before requesting a move to South Australia to play for Sturt in 1950.
Collingwood refused to clear him initially, but towards the end of the season a deal was struck that saw Len play the last 4 games of the season for the Magpies to try and help them into the finals and in return they agreed to a clearance for the 1951 season.
His move from Victoria Park to Unley had come about after Sturt managed to secure more lucrative employment for Fitzgerald than the Magpies had been able to arrange for him in Melbourne and if he had been a prominent player at Collingwood, he soon developed into a veritable champion with the Double Blues.
After only one game Len was appointed captain and then took over the Sturt coaching reins midway through his debut season.
In 1952 he won every media award going, together with Sturt's Best & Fairest and the first of his three Magarey Medals playing at centre half back.
The 1953 season brought interstate selection for South Australia at the Adelaide carnival, followed by inclusion in the inaugural All Australian team and a second Best & Fairest.
A second Magarey Medal and third successive Best & Fairest followed in 1954 for Fitzgerald this time playing as a ruck rover, but unfortunately a late season loss to wooden spoon side Glenelg cost the Double Blues a place in the finals.
In 1955 Sturt reached the Preliminary Final but the club's failure to honour a verbal pledge to bestow a fifty pound bonus upon its coach induced Fitzgerald to start an immediate search for pastures new.
The next three seasons saw Fitzgerald starring for and coaching Benalla in the powerful Ovens and Murray Football League, but he returned to Sturt purely as a player in 1959 and won his third Magarey Medal this time playing at centre half forward as the Double Blues reached the finals for the first time since his departure at the end of 1955.
Fitzgerald was a supremely versatile footballer with lightning reflexes, excellent ball handling skills and an awesome strength which was exhibited both in body on body clashes with opponents as well as when taking seemingly miraculous marks in pack situations.
Repeated injuries saw Len finish his playing career in 1962 after playing 125 games for Sturt and kicking 201 goals, he also represented South Australia 17 times, kicking 5 goals.
He went on to coach Glenelg between 1964 and 1966 steering the Tigers to fourth, sixth and last places in his three seasons in charge.
Fitzgerald was an inaugural inductee into the Australian Football Hall of Fame in 1996 and the South Australian Football Hall of Fame in 2002.