1940 – 1941 P.T. 'Bo' Morton is appointed Captain-Coach and leads the Blues to their fifth premiership in 1940, defeating South Adelaide by 21 points, during the game he becomes the first Sturt player to kick 100 goals in a season, he then retires having played 138 games and kicking 561 goals for the club, he also wins his third best and fairest in his last year. Unfortunately in 1941 back to back premierships were not to be, with new Captain-Coach Ralph Green leading the Blues into the Grand Final, but losing to Norwood by 29 points.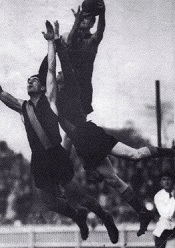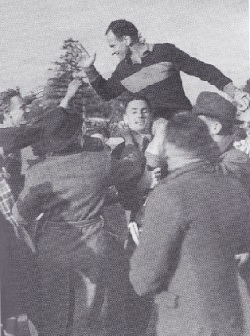 1942 – 1944 With many league footballers serving in the armed forces during World War 2, the SANFL decides to temporarily amalgamate the eight league clubs to form a four team competition. Sturt joins up with South.
1945 – 1951 After the war, the Blues enter a period of mediocrity. Sturt, like all clubs lost many players to the war but fail to rebuild, finishing no higher than fourth after 1948, Clayton 'Candles' Thompson who stood at a giant 198cm for the time wins the 1951 best and fairest.
1952 – 1955 Champion player and triple Magarey Medallist Len Fitzgerald becomes Captain-Coach. Sturt's highest position during this period is third in 1955 after being defeated by Port Adelaide in the Preliminary Final. Len Fitzgerald wins the 1952 and 1954 Magarey Medals, wins the best and fairest three times in a row, 1952, 1953 and 1954 and is named in the inaugural All Australian team along with Clayton 'Candles' Thompson.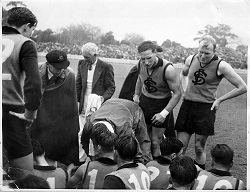 1956 – 1959 A succession of of coaches lead the club, Wally May in 1956, Edward Tilley in 1957 and 1958 while Glynn Williams is appointed coach for the 1959 season. Team of the Century member Tony Goodchild Captains the club in 1957 and 1958 and wins the 1956 and 1957 best and fairest. The Blues finish bottom in 1956 and 1958, but finish fourth in 1959. John Halbert finishes runner up in the Magarey Medal in 1955 and 1958 while Len Fitzgerald wins his third Magarey Medal in 1959 to become the club's only ever triple Magarey Medallist and what makes this feat even more remarkable is the fact that he was playing in a different position each time he won the medal with Clayton Thompson finishing runner up. 'Çandles' does however win the club best and fairest in 1959.