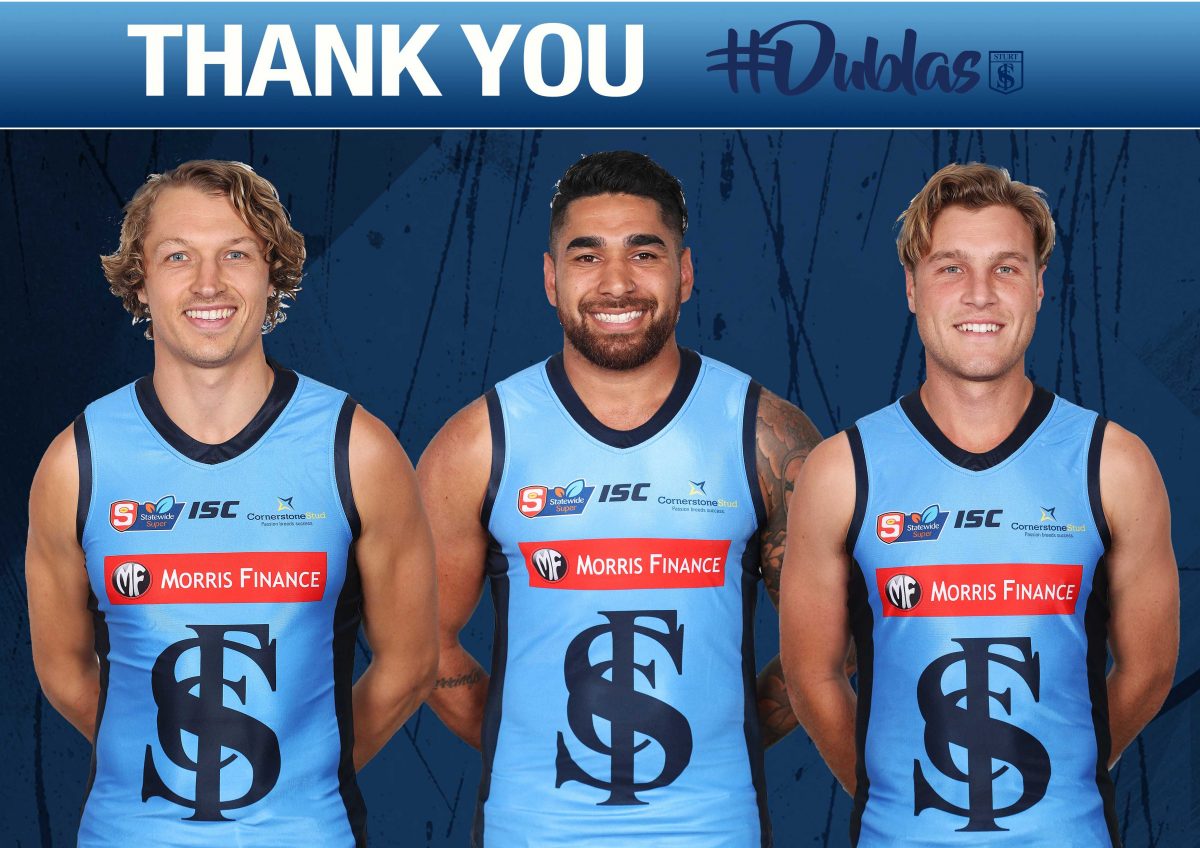 Senior premiership players, Tom Harms, Byron Sumner and Sam Colquhoun have advised that they will play their last game for the Club this weekend against Glenelg.
All players are expected to play this weekend meaning Sturt junior, Tom Harms will have played 121 SANFL games. Recruits Sam Colquhoun will have played 116 (Central District (9); Magpies (34)) and Byron Sumner 108 (Woodville West Torrens (54)).
Individually the players each agonised over their decision to tell the playing group at training this week. All cited trying to juggle work, family and life in general with the strict commitment playing SANFL requires.
Coach Nathan Grima could not speak more highly of the players noting each of their talents as great players within the competition and an example for aspiring young players to model.
"Anyone who has met Tom would agree he has an infectious personality. He was the first player I was drawn to when I arrived at the Club. Football Clubs are built around these players who not only contribute at a high level on field, they make everyone else around them better players and people. On field he is a courageous leader with a team first attitude. Off field his care for every one including players, staff, officials, volunteers and supporters is what helps to make the culture of this club so unique.

"Byron realised his unfulfilled talent when he joined the club in 2017 playing in the premiership team that year. He immediately made an impact with his elite skill set. Not only has he been a very good player on field he will be missed off field where he has mentored our younger indigenous players, designed indigenous round jumpers the last three seasons and when between jobs volunteered to assist the Club in the area of maintenance. It is not unusual to find Byron in the change rooms after games helping to clean up.

"In my first season at Sturt I was amazed that Sam was no longer playing AFL, such was his ability to impact games. However his attitude was never of someone hard done by for not playing more AFL. He always showed 100% commitment to making Sturt the best Club he could and was rewarded with a premiership in 2017 and won the P.T. Morton medal in 2019. I believe he is one of the best players in the SANFL however living in Tanunda and working in Gawler meant that travelling back and forth to Unley had become untenable.

"I would like to thank these players who have made my time at this Club enjoyable. All three have shown unwavering support and I have developed a relationship with each of them that will last a lifetime. The discussions with all three have been ongoing. All would have liked to continue but their individual personal circumstances dictated that now was the right time to retire.

"Harmsy is looking forward to spending more time with his partner Renee and sons Harry and Sonny . Likewise 'BD' with partner Sarah and young son Chays. 'Muff' will relish spending more time with his partner and stepping away from football at this level."
Football Manager Chris Trapp is currently sorting contracts for next season and speaking with potential recruits including AFL delisted players.
"You know you will lose players to retirement and that is sad especially in the case of these guys who have contributed so much to the onfield success of the club.

"An interrupted season due to COVID, injury and illness has given us the opportunity to play a lot of young talent. Getting games into some of these players will help set us up for next season.

"We will recruit to fill specific needs, which along with the talent already here and a quality football program we are confident we will be back playing finals in 2021."
We encourage our members and supporters to get along to this Saturday's home game to give these players an appropriate send off. We will also be recognising them at our P.T. Morton Medal Night on Friday 2 October at the Arkaba. Tickets for this event can be booked through the Club.