Calling all primary school aged girls looking to start their football journey!
A new All-Girls Auskick centre with involvement from our SANFLW players will commence on February 17th at 4:40pm, prior to senior women's training at Urrbrae high School.
Auskick registration is FREE with the use of the ORSR Sports Voucher – contact [email protected] for any questions or queries.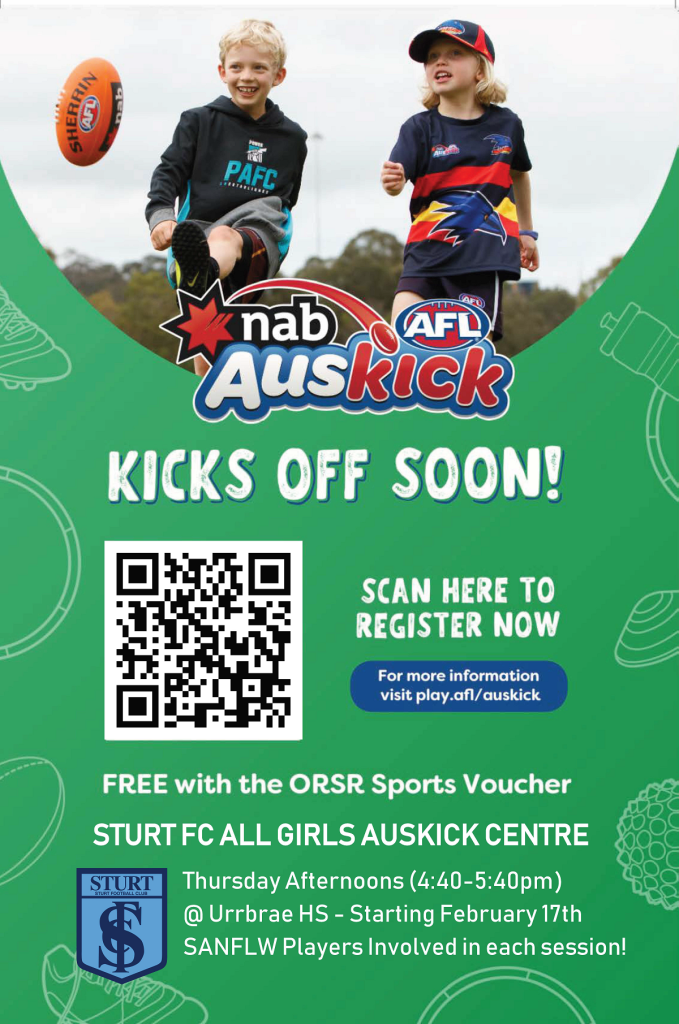 Other all-girls programs within our metropolitan and regional zones are also commencing mid-February:
Glenunga Community All-Girls Centre
Mondays (4:00-4:45pm) @ Glenunga Hub (Margaret Bond Oval) – Commencing Feb 14th
Register: https://www.playhq.com/afl/register/a9cea2
Adelaide Hills All Girls Auskick Centre
Mondays (4-5pm) @ Anembo Park (Diamond 3) – Commencing Feb 14th
Register: https://www.playhq.com/afl/register/6530a8
Murraylands All-Girls Auskick Centre
Wednesdays (3:50-4:50pm) @ Unity College Junior Campus – Commencing Feb 16th
Register: https://www.playhq.com/afl/register/7f391d